Unless you've already been living that WFH life, chances are you've had to make major adjustments to your 9-to-5 routine during the pandemic (hi Zoom-ready tops and cozy leggings, if you've even bothered to get dressed). If you've yet to find a space-saving set-up for your stylish abode, then L.A.-based Work From Home Desks is here rescue you from working from your couch — or worse, your bed.
You've likely already scrolled past the Torrance-based brand's stylish and sustainable birch plywood desks on Instagram. Like the rest of today's flatpack furniture, WFH Desks' merch requires assembly, but that's part of the fun. The modular units can be built as a sit-down or standing desk, and you can add on accessories such as shelves for the tops and sides, a foot rest, laptop lifters, and more ($35 to $148). The base model is priced at $449, and you can also opt for a double-wide XL size ($680 and up) and a children's version ($315) that includes a stool for schooling-from-home kids.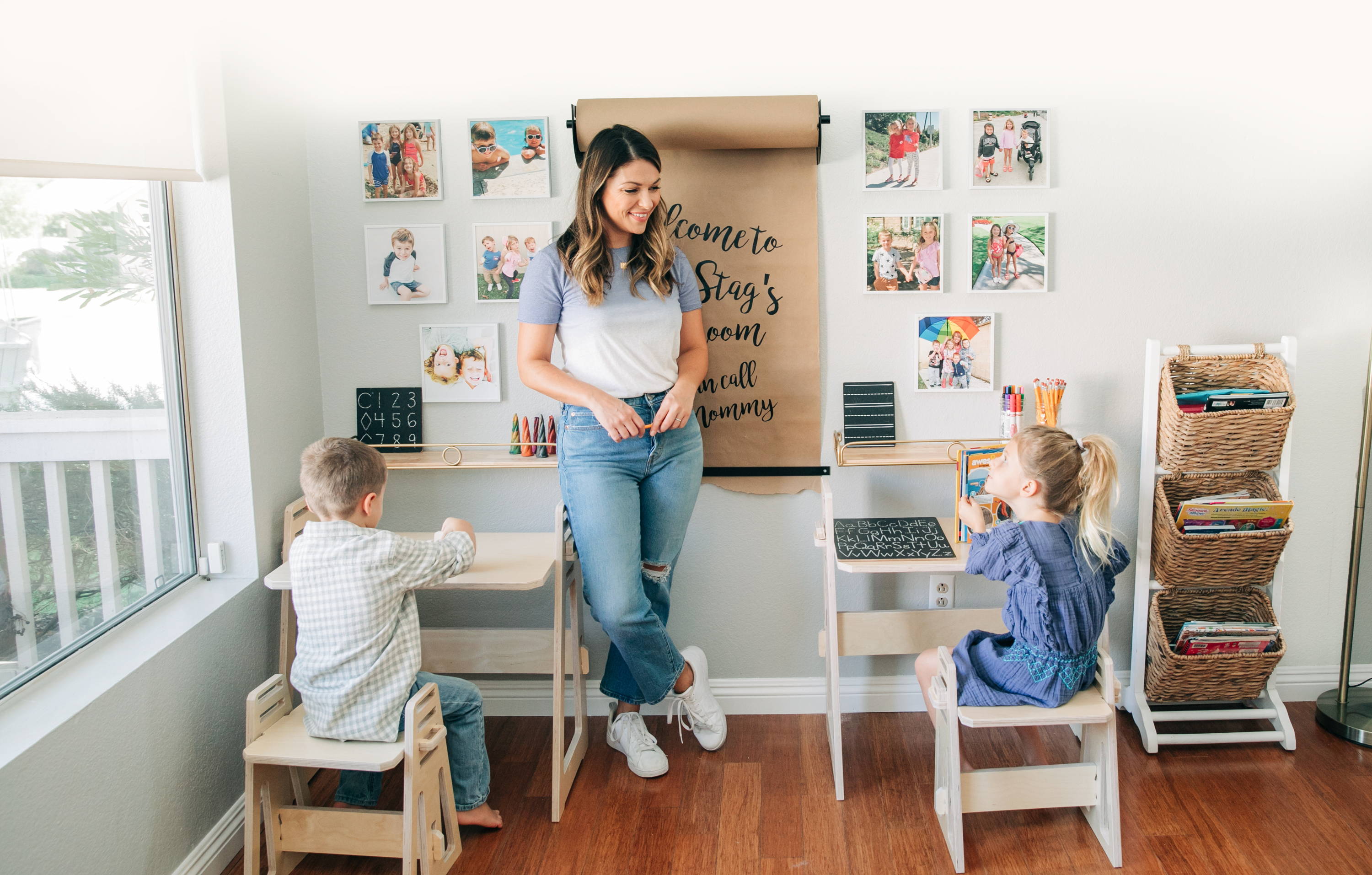 What's great about the desks is that they're easy to break down, and the flat components mean you can stow the furniture away under beds and couches. None of that comes as a surprise, given that the company behind WFH Desks is Fiasco Cases, which makes storage cases and racks for tour companies and events.
One of the many sad truths of the pandemic is that 44% of businesses are facing closure, according to Small Business Majority. But Fiasco is among those that have found ways to reinvent themselves to stay afloat, and even hire more employees.
"Pre-COVID, we had focused almost exclusively on the live event touring industry. We developed a complete range of truck pack cases to help improve logistics for live event touring. The goal was to reduce truck packing times by more than 50%," says WFH Desks co-founder and Fiasco Cases owner Joe Bradford. "The business had been growing rapidly in the last three years in Los Angeles. Highlights on the local L.A. scene included partnering with awesome teams like ShowPro to improve their logistics."
Fiasco was prepping for the spring event circuit when the coronavirus hit.
"When South by Southwest was canceled in March, we instantly started to see the wheels coming off our Fiasco Cases business," Bradford tells UncoverLA. "In the next seven days, 90% of the work we had scheduled for production over the upcoming 90 day period was canceled or postponed. None of those jobs have eventuated since and many of our customers have furloughed their staff until 2021."
"So we knew we had to pivot. We launched Work From Home Desks on March 23," just two weeks after L.A. shut down, says Bradford.
Here, the WFH Desks co-founder shares more about his company's pandemic pivot, what it was like coming up with the designs, and what else they've got coming down the pipeline. Read on below, and shop online here.
How long did the "pivot" process take, from coming up with the idea to creating prototypes and final designs?
The first four days were all about ideas: We considered everything from desks, to coffins, exercise equipment and Perspex screens. The team came up with more than twenty product line ideas. Ultimately we settled on desks. The next step was to create a chop list of essential requirements, these are still guiding principles for us today and include the ability to ship via FedEx or UPS at reasonable rates direct to homes across America. It had to be an ergonomic sit or stand desk with a no-tools setup and the ability to pack it down and store it flat.
All of those requirements were driven by COVID restrictions where people would be needing to stay home and work in home offices. Taking your desk apart and storing it under the bed is a major win if you live in an apartment.
A strong, sustainable and eco-friendly desk was non-negotiable for us and easily solved as we had moved our plywood supply chain to meet those requirements in 2016 and 2017. We knew if we could rely on the plywood to last a decade in a touring environment we could relay on it to last a lifetime in a home office environment.
We then prototyped eight different desks in four days before spending another two days refining the Work from Home Desk we now offer on our website. We also created the three original accessories we still offer.
As all the product development was happening we were also building the website, sourcing packaging and other materials so once we had our final product it was only about 24 hours before the first version of our website went live. Since then we have reworked the website, photos, and other creatives multiple times.
What has growth been like for the company?
On March 6, we employed a total of 12 staff at Fiasco Cases with three in our L.A. location. Our aim in March was to keep [them] employed. Today we employ over 20 staff with 12 at our L.A. location so we have achieved our goal at this stage. The goal for 2021 is to keep all 20 staff employed.
What else do you have coming down the pipeline?
November is going to be a very exciting time for us. We are about to launch ten new products. A larger desk, a sit-only desk and eight accessories that customers old and new can use to extend the functionality of the original Work From Home Desk. Those who brought a desk in April and who now want a larger desk will be able to buy an extension kit in November and create that larger desk.
We love supporting local businesses — and sharing what to buy from them. All products or services are selected independently by our L.A.-obsessed editorial team, and we may earn a commission when you purchase through our links.